Wapcam Widget
The Wapcam widget allows you to stay connected with your WapcamServer or your IP camera, directly from your Netvibes or digg-like start-page.
Installation
To install the widget, you just need to browse to lNetvibes' ecosystem website..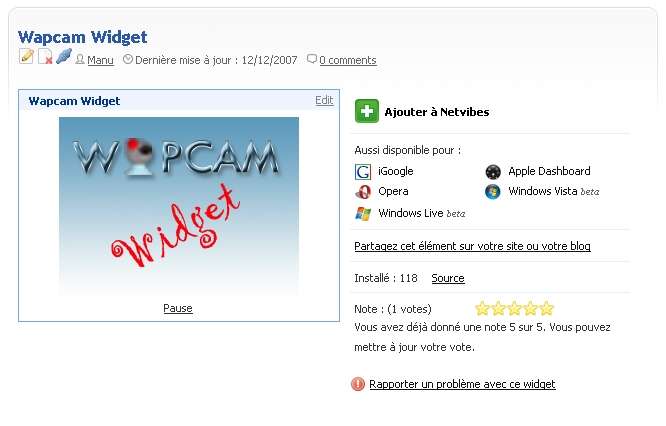 Once there, simply choose your host platform, click, and follow the instructions. The host platforms that are supported include the following:
iGoogle
iNetvibes
Opera
Windows Live
Apple Dashboard
Windows Vista
Once installed, the widget needs a little configuration. As usual, you will need to enter the image source URL or IP adress in the URL field, and the delay between two successive snapshots. That's it!
To achive that, click on the 'option/edit' link on the right upper bar.
in the URL field; enter the IP of the image source. For exemple, http://192.168.1.0/shot
in the 'delay' field, enter the time between two refreshing images. It's in milli-seconds, so take your time in seconds and add '000' at the end.
Finally, you can stop monitoring your place by clicking on the stop link under the image.
Whenever you want, click again on the 'start' link to retrieve images again.